This is a brief overview of expected battery consumption of the SafetyAware application, methods to moderate battery consumption, and accessories to charge your phone remotely.
Expected Battery Usage of SafetyAware
The SafetyAware App has minimal impact to your daily battery usage, similar to the amount of battery as other GPS phone applications use, like Google Maps. Battery utilization is primarily impacted through location-based activities required to deliver safety. For iPhones, the App uses an average of 2% of the total battery life, while Android averages around 5%.
iPhone (iOS) Battery Usage: ​Example iPhone 11 Pro Max iOS v 13.4.1
Using an iPhone 11 Pro Max, the battery usage over an 12h period logged a total of 2%.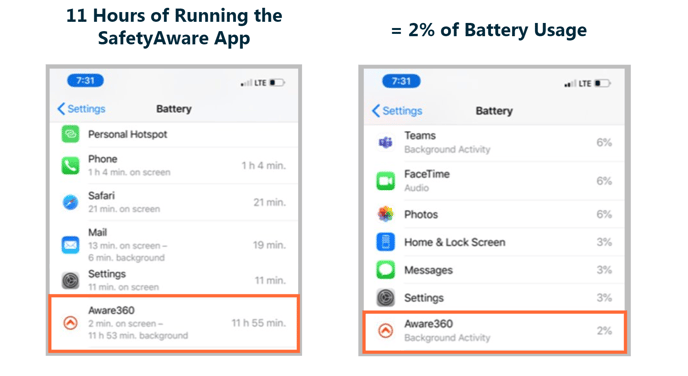 Android Battery Usage: ​Example Samsung Galaxy Note 10+ running Android 10
Using Samsung Galaxy Note 10+, for an eight hour work day, the SafetyAware App averaged just over 5% of total battery usage.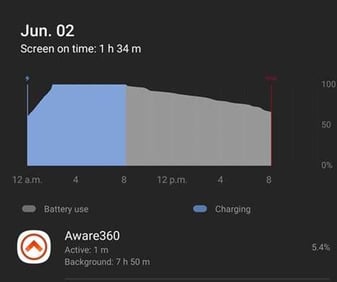 General Methods to Moderate Battery Consumption
Turn down your screen brightness level​
Keep out of temperatures below -20°C​
Keep out of direct sunlight & heat​
Close unnecessary applications​
Turn off 'vibrate'​
Turn off Bluetooth / Wi-Fi when not in use​
Shorten 'screen timeout'​
Reduce other phone notifications (social media, games, etc.)​
iPhones can use 'low power mode'​
Disable 'Background App Refresh'
What are some accessories I can buy that will keep my phone charged?
Cigarette charger adapter (for in-vehicle charging)
Charging cables
Portable charging blocks
Extra phone batteries
Charging phone case
Questions? Submit a support ticket to our team.