The Aware4Duty test is available via web browser on a tablet, laptop, or desktop computer, or via the mobile app for Apple iOS or Android smartphones. Users should choose between tablet, computer, or smartphone app, and must not switch between test-taking methods. Below are suggested IT considerations of which companies should be aware when deciding what platform their employees will use.
Mobile Smartphones
The Aware4Duty app requires mobile smartphones running Apple iOS 8 or newer or Android 4.0.3 or newer. Upon downloading from the app store, the user will login with their provided Company ID, User ID, and password.
Touchscreen Tablets
The tablet version will employ a web browser to run the Aware4Duty test. For optimal performance, tablets must run one of the following operating systems:
Apple iOS 9+
Android 6.0+
Windows 8 or above
The company's authentication method should be considered in selecting a tablet. Aware4Duty provides a single user login for the keypad on the tablet. If another authentication process is used, then integration to the tablet from an appropriate reader should be configured. Keep in mind that for attaching a reader, recent models of the Apple iPad offer only a single Lightning port, and older models have a 30-pin Dock Connector port.
Wall Mount
A wall mount is recommended for tablets to provide the necessary protection based on your physical work environment.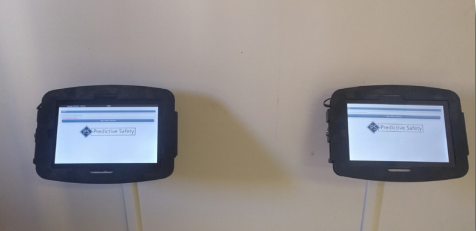 Kiosk Mode
Both iOS and Android operating systems can be configured to lock the tablet to a single app or browser. See the document Aware4Duty iPad Setup for Dedicated use: "Kiosk Mode" (iOS 12 or later) or Aware4Duty iPad Setup for Dedicated use: "Kiosk Mode" (iOS 11 or earlier).
Desktop or Laptop Computers
A web browser such as Chrome, Firefox, or Safari on a regular desktop or laptop computer can be used to take the Aware4Duty test. Users taking the test on desktops or laptops should use only desktops or laptops and not also use touchscreen tablets or the smartphone app version. Users will login with their provided company IDs, user IDs, and passwords.

Connectivity
Internet connectivity to the tablet or desktop/laptop is required. If no wireless connectivity is available, tablets must have installed SIM cards to use a cellular data connection. If wired network connectivity is necessary, Apple iPads are not compatible with Ethernet cables and another tablet such as a Windows Surface, or a laptop or desktop computer should be used.
Internet connections must be reliable and without network interruption. If most websites load easily on your network, no additional or special connectivity is required.
To ensure that your network connection speeds are adequate for Aware4Duty, refer to the Aware4Duty Bandwidth Testing Instructions.