I can't remember my password for the SafetyAware app and need to reset it.
To reset your password, enter your e-mail address into the Email field and then press the "Forgot Password" (As circled below) link found on the sign-on screen of the app. Alternatively you can reach out to your system admin and they can send a link to you.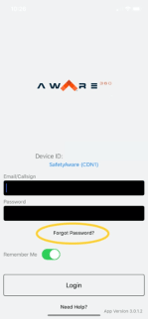 Make sure to check your junk folder if the email hasn't shown up in 15 minutes or so and be advised that the link will expire after 24 hours. You must also make sure that the email is being opened on the phone. If you choose to open the email on a laptop or a desktop, please use either Google Chrome or Firefox to reset your email. Do not use Internet Explorer as it will not allow you to reset your password.
Only you or your system admin can request a password reset email. For privacy reasons Aware360 is not able to do this.