Find detailed instructions on how to register and use the GoAware App here.
GoAware: Registration Process
Step 1: Review the information provided by your Organization Administrator on the use of this smartphone app. For more information on the solution, please read the FAQ's.
Step 2: Download the GoAware App from the Google Play Store or Apple Store as instructed by your Organization Administrator. If you have a company and personal phone, please download this app on your company phone. This App may be automatically deployed to your company phone.
Step 3: Launch the GoAware App and follow the instructions below to register GoAware with your organization:
Review the End User License Agreement (EULA) and then check the box "I agree to GoAware's End User License Agreement" and tap "Okay". If you have questions about the EULA please contact your Organization Administrator.
Enter your Organization's ID (provided by your Organization Administrator) and tap "Next".
Enter the mobile phone number of your smartphone device and tap "Get OTP".
A text message with a One-Time Pin (OTP) will be sent to your phone number. Enter the six-digit OTP before the time expires and tap "Verify".
Press "Okay" to accept approval for securely storing your phone number, to share proximity data if requested, and to accept a phone call from your organization.
Press "Continue" to approve the app permissions specific to your phone for GoAware.
iPhone Users Only: Follow the instructions for GoAware to be effective and tap "Okay".
You are now registered for GoAware!

Using GoAware While at Work
1.When you are working, turn on the GoAware App by selecting the icon to open it. iPhone users: please keep the App in the foreground while working.
While you are working, you may receive social distancing reminders (vibration and notification) if you are within two meters of another user for more than one minute.
From time to time you may receive notifications from your Organization Administrator through the App (for example: tips for safety or program updates).
2.When you leave work, please turn off the App.
Android users, you must force stop the App. To do this, on your phone go to settings > Apps > scroll to GoAware, select GoAware and press "Force Stop".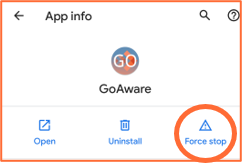 iOS users, simply double tap the home button and slide the app up to turn off the GoAware App.
Given the nature of the workplace, you may receive a call from your Organization Administrator with instructions to follow. This may be the result of a concern over a co-worker's health.
How to Start the Contact Trace Process
If instructed by your Organization Administrator or HR Representative to upload your contact trace data, please follow these steps.
Steps to Upload Contact Data:
You will receive a phone call from your Organization Administrator.
Press the Upload icon, to go to the Send My Data Step 1 module.
Over the phone, your Organization's Administrator will verbally verify they are a trusted representative by providing the same 6-digit verification code shown on your screen. Once verified, press "Proceed" to continue.
The Authorized Administrator will generate a Verification PIN in the GoAware Portal and share that number with you, please input that number and press "Send".
You will receive confirmation that your data is uploaded when all three checkmarks are green. Press "Done" to complete the process.