The Aware4Duty test is available as an app for Apple iOS or Android OS smartphones, via web browser on a touchscreen tablet or a desktop or laptop computer. Users must choose to access Aware4Duty via only the app, a tablet, or a computer and must not switch between the different ways of taking the test.
Using Aware4Duty requires an Internet connection. If your Aware4Duty system includes touchscreen tablets for employees to share, the tablets must be connected to the Internet either through wi-fi or a cellular data connection using an installed SIM card. Smartphone app users can also use a wi-fi or cellular data connection. To ensure that your network connection speeds are adequate for Aware4Duty, refer to Appendix 2, "Bandwidth Testing Instructions."
Tablet Setup Overview
If employees will share tablets to do the Aware4Duty test, they can be set up for use quickly and easily. Once connected to the Internet, the Aware4Duty test can be found by opening the web browser (e.g., Safari) and navigating to:
https://aware4duty.aware360.net/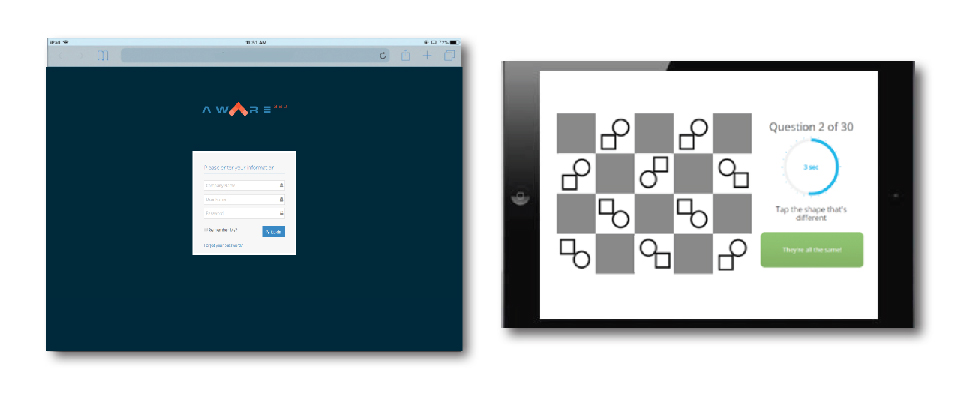 Tablets can be operated in kiosk or "guided access" mode, locking the tablet for Aware4Duty use only. For more detailed instructions on setting up tablets, . Keep the tablets conspicuously in a common area where employees congregate or pass through before entering the work area. Use each tablet's power cable to keep it charged. NOTE: Tablets must be oriented in landscape (horizontal) position to use Aware4Duty.
For detailed instructions on setting up an Apple iPad for Aware4Duty use, refer to IT Information, Setup Guide for Non-Dedicated Apple iPad, or Setup Guide for Dedicated Apple iPad: "Kiosk Mode."
If your iPad is running iOS 11.x or earlier, please refer to Aware4Duty Setup Guide for Non-Dedicated Apple iPad (iOS 11 and earlier) or Aware4Duty iPad Setup for Dedicated use: "Kiosk Mode" (iOS 11 or earlier) for setting up and Apple iPad for Aware4Duty use.
Smartphone App Setup Overview
Employees using the iPhone or Android app versions of Aware4Duty should download the Aware4Duty app from their respective app stores. They will login to the Aware4Duty system with your company's company ID, their user IDs, and their passwords. Unless they log out, they will not need to log in again when launching the app to take the test. Employees should keep a record of their login information in case they inadvertently log out.
The Aware4Duty smartphone app requires Apple iPhones running iOS 8 or later, or Android-based smartphones running Android 4.0.3 or later.
Remember!
Aware4Duty users cannot switch between different hardware and must consistently use the same hardware, whether a tablet, a computer and mouse, or the smartphone app.
This is due to their differences in input method, screen size, and the overall user interface. These factors influence individuals' response times and general interaction with the test elements, and therefore must always be the same so Aware4Duty can accurately measure individuals' performance on their version of the test.
Need additional guidance? Contact us:
support@aware360.com
+1 877 352 8522