Much like all major mobile device manufacturers, Android allows excellent device products to be created that can be utilized for an array of services, including telematics/trip services. However, Android Operating Systems flexibility on battery-saving features and background data usage options that may hinder optimal processing of trip data. To fully maximize phone capabilities with our mobile app, below reflects Android-specific recommendations:
If you are utilizing a phone that is owned by an Organization, please contact the organization to gain approval on making the following changes:
How to Disable Android Battery-Saving Features for iDriveAware App - Different manufacturers have slightly different methods, but the results are the same.
Newer Android Devices - Android PIE
Click into Settings -> Apps -> Copilot -> Advanced -> Battery, and check that the app is allowed to use battery in background.
Go to Settings -> Battery -> Battery Saver and confirm that "Turn on automatically" is set to off
Go to Settings -> Battery -> Adaptive battery make sure that "Use Adaptive Battery" is disabled.
Lastly, make sure that the Mobile App is not listed under "Restricted apps"
Pixel and Nexus phones — Android 7.x or later
If you have a Pixel or Nexus phone running Android 7 (Nougat) or later, try this:
1. Open your Settings.
2. Find the entry for Battery and tap it.
3. Tap the menu button and choose Battery optimization.
4. At the top, you'll see a drop-down menu. Open it and choose All apps.
5. In the list, find the iDriveAware App and choose Don't Optimize.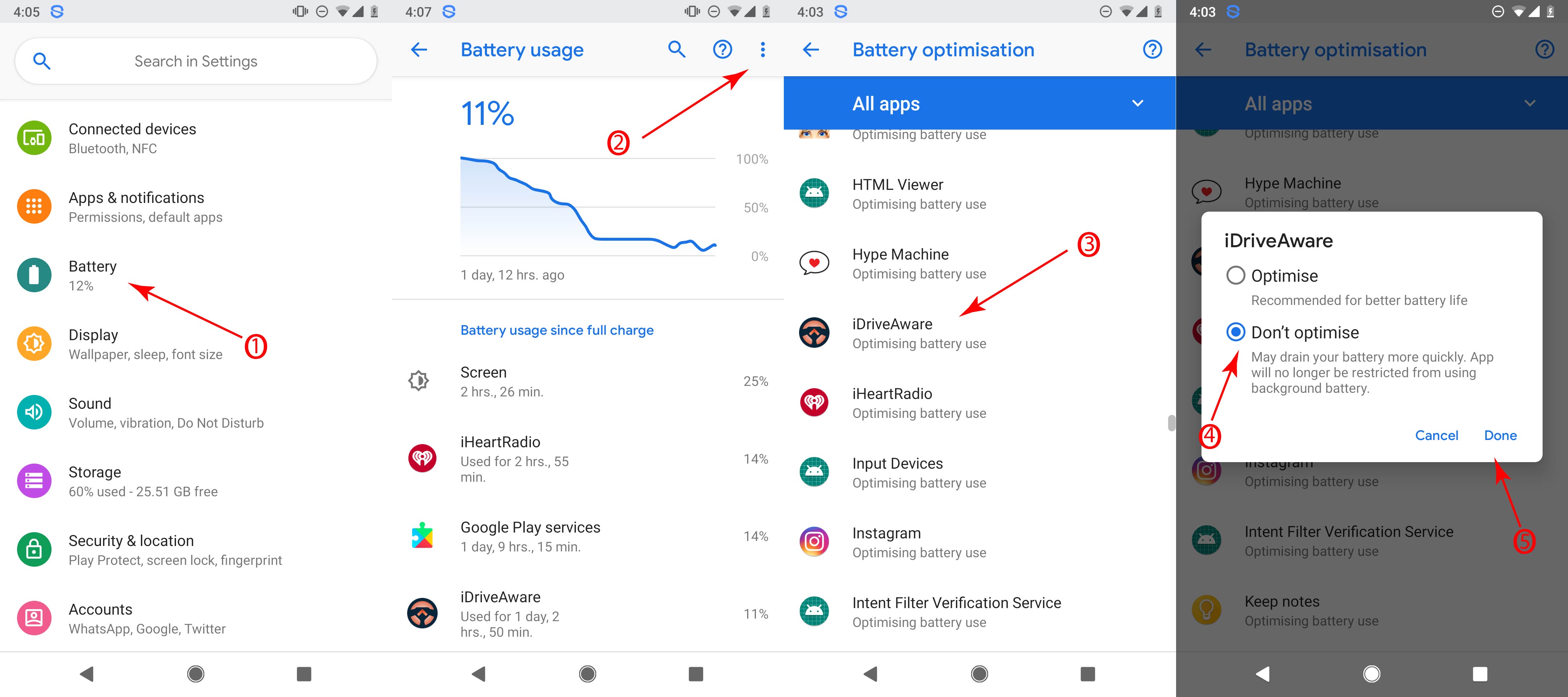 Android uses a system tool called Doze to control how apps use power in the background.With Android 7.0, Doze became much more aggressive and there have been a few problems with apps when the screen shuts off. Selecting the Don't Optimize option tells Doze not to try and control how the app behaves when not in focus.
Samsung phones — Android 7.0
On a Samsung phone running Android 7.x Nougat or later, the steps are simple.
1. Open your phone's Settings menu.
2. Open Device Maintenance.
3. Tap Battery.
4. Tap Battery usage.
5. In the three-dot menu button (top right), tap Optimize battery usage.
6. In the drop-down menu, find the iDriveAware App, ensure it is Deselected
Samsung phones — Marshmallow (Android 6.x)
If your Samsung phone is stuck on Marshmallow, here's a tried-and-tested solution that doesn't involve battery optimization but rather access to background data.
Note: If your Samsung phone is running Android 7.0 or later, skip this step and go to the one below.
1. Open your Settings.
2. Tap the Data usage entry.
3. Tap on Background data.
4. Find the iDriveAware App
5. Make sure the switch beside it is set to enabled.
Android phones — Lollipop (Android 5.x)
1. Open your Settings.
2. Tap the Battery icon.
3. Tap on Battery Saver
4. Select, Off
5. You can also set Battery Saver mode to turn on Never, by tapping into Turn On Automatically
References:
Jonnalagadda H. Ingenico's latest mobile POS reader runs Android out of the box. Android Central. https://www.androidcentral.com/ingenicos-latest-mobile-pos-reader-runs-android-out-box. Published January 16, 2018. Accessed January 15, 2019.
Hoffman C. How to Use and Configure Android's "Battery Saver" Mode. How-To Geek. https://www.howtogeek.com/242472/how-to-use-and-configure-androids-battery-saver-mode/. Published July 5, 2017. Accessed January 16, 2019.