Here's how managers and drivers can access iDriveAware coaching tools (feedback reports) in the app, portal and through email.
Mobile App: Through our mobile app home screen, you have the ability to review your current score (out of 100), how you compare with the overall team average and among your peers
By selecting the Coach button, you can review weekly performance metrics to understand key areas that are improving or need improvement
You can also review weekly performance in terms of specific driving behaviours through the informational icon ('i' on the right-hand side)
Web Portal: Drivers and managers can also access the interactive driving feedback report through our Web Portal. Drivers can only view their score, while Managers see the full teams scores. The web portal also reflects scores compared to the overall team average and how they rank among their peers.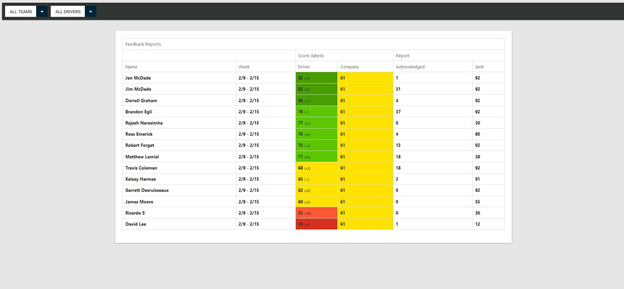 E-Mail: In addition to accessing the interactive driving feedback report in our mobile app, we also e-mail it directly to your drivers.
Interactive Acknowledgment: The Acknowledgement functionality provided Management current and historical insight to whether drivers are reviewing the interactive driving feedback report. This empowers Management to hold drivers accountable in reviewing the report, to increase engagement and safety. When accessing our report via mobile app, web portal, or email, drivers will see the interactive 'Acknowledge Here' prompt. Once the driver reviews and acknowledges feedback, the date is captured. Management is also provided with a feedback report showing acknowledgement ratios.